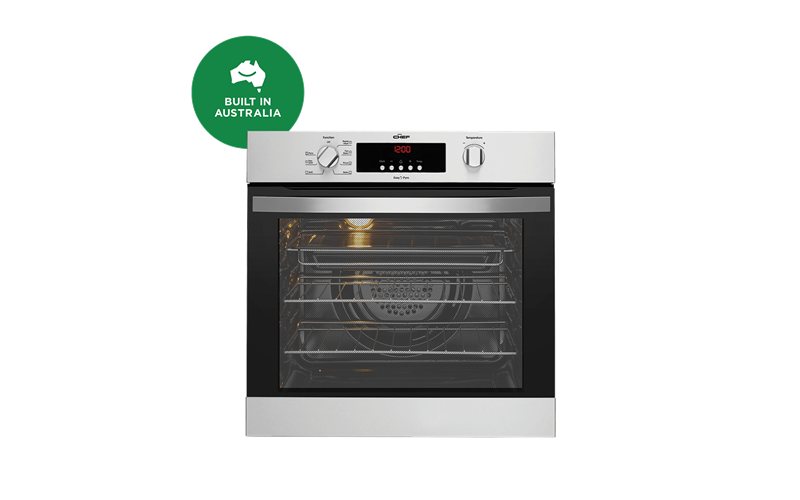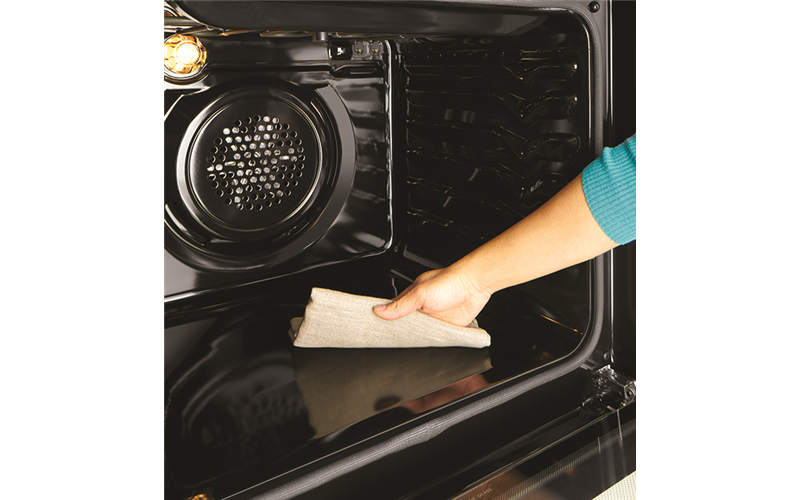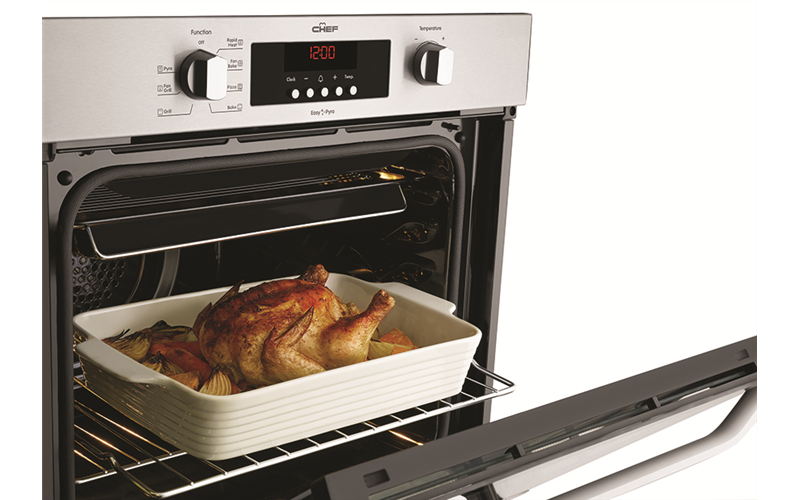 Electric Single Pyrolytic Oven
Electric Single Pyrolytic Oven
is rated out of
5
by
43
.
Electric multifunction 7 single EasyPyro oven with programmable timer in stainless steel
Easy Cleaning Pyrolitic Oven
At the touch of a button this pyrolytic oven cleans itself, leaving behind only a fine ash, which can be simply wiped away. Apart from the cloth for wiping away the ash, no cleaning products are needed.
Contemporary and functional
The Chef range of cooking appliances has all the features you need in a design that you'll love
Multifunction for conventional and fan forced cooking
This multifunction oven allows you to perform both conventional and fan forced multi-shelf cooking. The large capacity means most family cooking needs can be easily catered for.
Cooler door
This Chef oven features an oven door with reduced temperatures due to the innovative design of the air-cooled door
Built in Australia
Chef has been part of Australian homes for generations and the kitchen appliance brand we have always known and trusted to build reliable products. This oven is built in a local factory in Adelaide.
Key
Features
Easy Cleaning Pyrolytic Oven
80 litre gross capacity oven
24 hour programmable timer
Cooler door temperatures with air cooled door
Domestic warranty details (yrs)
2
Oven fuel
electric
Materials/Colour
mark resistant stainless steel
Controls of Oven
control knob
Rated

5

out of

5
by
Chsa
from
New oven
Delivery and installation went well. Oven works well haven't used pyrolytic function yet looking forward to not having to scrub oven
Date published: 2021-07-22
Rated

5

out of

5
by
Ovenowner
from
Love our new oven
Love this oven, replaced a Meile which broke and this oven cost less than the repair cost for our old oven. Cooks more evenly and easier to clean, looks just as good and we never used the extra features of the more expensive oven anyway. Highly recommend.
Date published: 2021-05-29
Rated

5

out of

5
by
EvernessCooking
from
Budget in price but not in quality!
After owning a top of the line Meile, we replaced it with this Chef as we realised we did not use any of the fancy features and just wanted basic features and pyrolytic. This oven looks as good as our Meile, and actually cooks more evenly! We got a new oven for less than the cost of repairing our old one and extremely happy with it.
Date published: 2021-05-13
Rated

5

out of

5
by
Miamaiko
from
Fantastic oven.
Quick heat. Great looking. Works fantastic. Haven't used self cleaning yet.
Date published: 2021-01-26
Rated

4

out of

5
by
Cassie63
from
Pretty good
Cooked the Christmas cakes perfectly. Had great results with the baked vegies for Christmas lunch
Date published: 2020-12-30
Rated

4

out of

5
by
Cazza
from
Compact but roomy
So far no complaints. Working out which features suit me best.
Date published: 2020-12-30
Rated

5

out of

5
by
Peace2u
from
Fantastic oven. Cooks perfectly every time.
I had to buy this oven to replace my old one which had died. I did a lot of research and every oven I could find under $4000 had reviews which matched what my old oven would do....burn on the outside and the inside would not be cooked! I have been cooking since I was a kid and have lots of experience and for some reason all the new ovens seem to have a common characteristic of burning the outside and undercooking internally. (older ovens never did this) I certainly could not afford $4000 for a good oven so I took the plunge and bought this oven. Fantastic. It was so good to be able to cook things and not have them burn somewhere on the outside before the inside was cooked. Also it is wonderful having a door that does not get hot so if grandkids or anyone else touches it no one gets burnt! I have nothing but good things to say and highly recommend that you don't waste your money buying any other oven on the market but this one.
Date published: 2020-12-12
Rated

4

out of

5
by
Anonymous
from
Not bad
I've been using this oven for nearly 3 months now. I'm still getting used to the timer, I think it could be better. The pyrolytic function is great. I also like the quick heating option. It took me a while to work out the temperatures and time for cooking. I find that 180 is not hot enough for this oven and I often use 190 or even 200 for the same cooking time. Some things also take longer to cook than in previous ovens I've owned. I probably wouldn't buy it again, but it looks nice and does a good enough job.
Date published: 2020-10-27
Like to know more?
Easy.
The range of Chef cooking appliances have all the features you need in a design you'll love.