We're all about making life EASY.
Our range of easy-to-use kitchen appliances makes cooking what it should be. Simple and enjoyable. We make uncomplicated appliances, without compromising on style.
Matte black? Easy.
Our new dark design brings to life the latest kitchen trends with modern matt black finishes and dark glass to elevate any kitchen space.
More time for living? Easy
For a straightforward cooking solution, we have a range of gas, ceramic, electric and induction cooktops. Now with a better fit, feel and finish than ever before, a Chef cooktop is your secret ingredient to delicious and fuss free food.
Why choose
Chef?
Our mission is to make life easy. We keep things simple by designing appliances that take the fuss out of cooking so you can be free to focus on the things you love.
An oven that cleans itself. Easy.
Our Easy Pyro Clean means fuss free and effortless cleaning. At the press of a button, the pyrolytic function means the oven reaches high temperatures and turns residue into ash – so all you need to do is gently wipe away.
Touch on glass control
Our cooktops have easy to use touch on glass control for a seamless and more responsive cooking experience.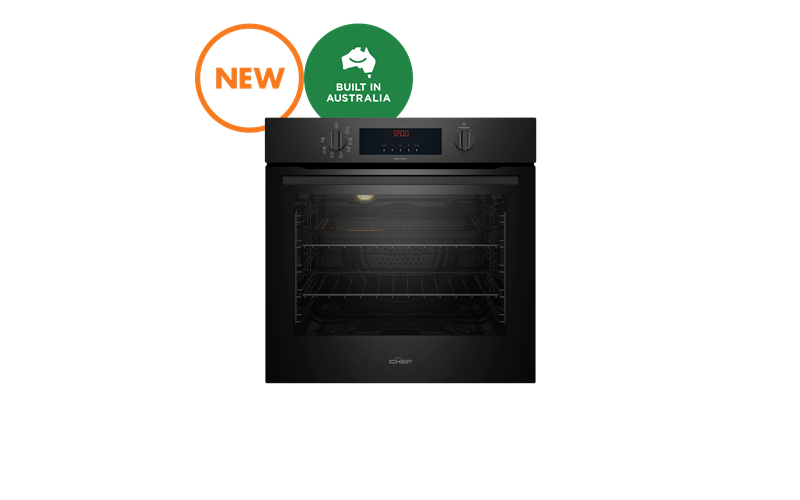 CVEP614DB
60cm multi-function 7 oven with Easy Pyro Clean, black
Easy Pyro Clean
Quick Cook for rapid, high and even heat
Programmable timer
Reviews
70cm boosted induction cooktop
Good Cooktop
We have only had this one for a day, but after having a normal electric cooktop, it is very stark the increased speed of cooking that induction gives you. Remember if you buy an induction cooktop, the cookware you use must have metal that a magnet sticks to.
Electric Single Pyrolytic Oven
Very happy
The oven does everything I need it to do, and does it well. It's programmable and Pyrolytic (self cleaning). Bakes really nicely. Not sure why people spend more money, unless they actually will use fancy features. I'm really happy with this purchase.
New
Products
See our new range
Transition to induction?
Easy.
It's an easy to transition from a electric cooktop to a Chef induction. If the rated input power of your current electric cooktop is 6.5kW* or less, you can easily upgrade to our induction cooktop with minimal fuss.
*We recommend contacting a licenced electrician to determine whether your home's existing electric service can support the appliance.
RANGEHOOD FILTERS
Cook and live in comfort with clean rangehood filters. For optimum rangehood performance, your filters should be cleaned and replaced regularly. Learn more about rangehood filter maintenance here.
Like to know more?
Easy.
The range of Chef cooking appliances have all the features you need in a design you'll love.